CAC's Most Outstanding Sponsorships during 2015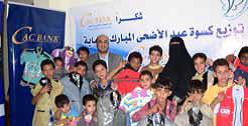 12/31/2015 12:00:00 AM
The Bank has extended assistance to Hamsat Kheir Baenevolent Society, which cares and looks after many orphans, by distributing Eid Al Adhha clothing and foodstuffs to almost 300 orphans.
The Bank supports Alliwa Home for Female Orphan Care by distributing blankets and winter clothing for the orphanage residents, thus contributing in the relief of some of the burdens borne by it in carrying out its humanitarian and social work.
CAC Bank has in cooperation with the National (Aden) Society set up the free Rosy Clinic for early diagnosis of breast cancer. The clinic offers its services free of charge and raises visitors' awareness of the risks of breast cancer and benefits of early diagnosis.
Our news