CAC Bank and UST signed an MOU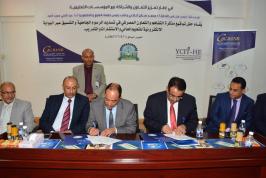 7/27/2017 12:00:00 AM

The Cooperative & Agricultural Credit Bank signed a memorandum of cooperation in the field of banking with the University of Science and Technology on Thursday 27/07/2017, to provide banking services and pay university fees, as well as coordination, consultation and training.
Whereby the bank was represented by the Chairman Mr. Mohammed Saleh Al-Lai and the University was presented by the Vice President of the University Dr. Abdulghani Hamid Ahmed in which they delivered speeches in front of the attendants. The Chairman affirmed that signing this memorandum comes within the framework of the Bank's plan to expand the relationship and enhance the partnership with the University in many financial and scientific aspects and achieve the objectives of social and economic development, and praised the level of scientific development witnessed by the University and the role it plays in the academic sector in the country. Then, the Vice President of the University declared that this agreement comes within the framework of the University's efforts to strengthen its relationship with CAC Bank as part of its objectives of enhancing cooperation and partnership with the leading financial institutions.
After that Mr. Ibrahim Nijad – Deputy CEO for banking operations explained in detail the Bank's services, products, future plans, strategic visions and highlighted its banking activities, especially in the field of electronic services. At that point a film about the University of Science and Technology was also showed declaring the history of the University from foundation until today, including a definition of faculties, majors and departments, and highlighted the achievements of the University at the local and external levels.
At the end of the ceremony, the Bank presented the bank's Shield to the leadership of the University.
Our news